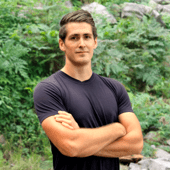 Houston Keil-Vine
Senior Product Manager – Product
Joining as Synex's first Product Manager, Houston has worked for years as a PM with a special focus on consumer hardware products and services. Most notably, Houston worked at ecobee inc. shipping:  the ecobee3lite -- the second best selling thermostat in North America;  ecobee4 -- the first thermostat with integrated voice assistant powered by Amazon; and the ecobee Switch+ -- the best selling lighting control device with integrated voice assistant.

Houston is a graduate of OCADu with a Bachelor of Design in Industrial Design, and is a registered Professional Industrial Designer in Ontario, certified by ACIDO. 
Houston holds multiple patents for the control of thermostat and lighting devices and a design patent for ecobee's thermostat's industrial design. Houston's passion is bringing the voice of the user into product development while scaling products from conception to mass production.