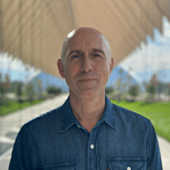 Lee Jon Scramstad
Systems Architect – Operations
At the start of his career, Lee Jon found his passion in technology by building and selling PC's to friends and family.  Acquiring his first corporate client catapulted his first company, Teksmart, into a thriving IT service provider business supporting clients across Canada.  When ATM's were first deregulated in Canada, Lee Jon started another tech company, ATM Tech Support, supporting numerous white label ATMs for various sales organizations. Soon after, he began deploying his own fleet of ATMs, becoming a trusted provider in that space. For him, customer experience is always the #1 focus. 
Lee Jon has had many successful project builds in the payments technology arena. Building and deploying public facing credit card acquisition tablet applications for some of the big five banks in Canada, developing a first in the world instant credit card kiosk for PC Financial, and bringing to life a unique single denomination tap-to-donate device on the LTE-M cellular network.  Cryptocurrencies and NFTs are a growing passion of his, delving into the nuances of transaction verification and monetization of creative projects. 
Being at the forefront of all things data and security related in customer facing technology, Lee Jon is responsible for building and maintaining all systems infrastructure for Synex Medical.